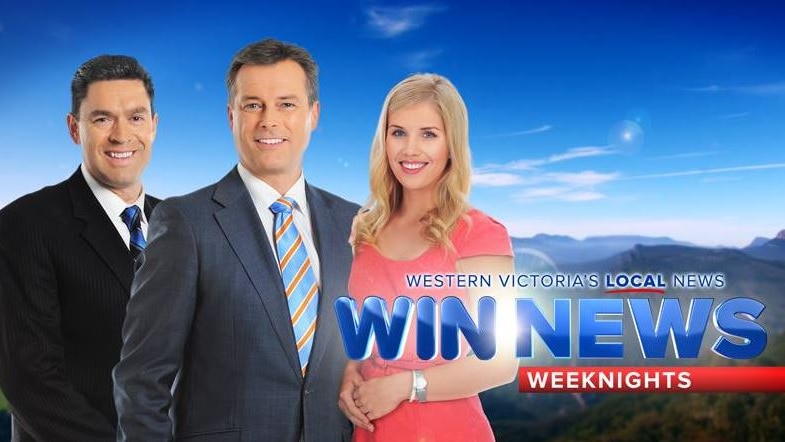 WIN TV network announces plans to close studios in Victoria
Calls for the federal government to overturn its regional media ownership laws are gaining momentum as the WIN television network announces plans to close its studios in Victoria.
WIN Network will move its half-hour late-night Victorian newscasts from Ballarat to its headquarters in Wollongong, NSW, starting in February.
In a statement, the network said the change was needed so that it could "continue to give a local voice to regional communities" by finding "more effective ways of disseminating information – in this case using existing facilities" .
As part of the plan, Ballarat-based presenter Bruce Roberts will read local Victorian bulletins from existing production facilities in Wollongong, with reporters to move to a new Ballarat office without a studio.
WIN's move comes at a time when regional networks Prime, WIN, Southern Cross Austereo and Imparja have campaigned under the tagline Save Our Voices, to change existing TV rules that prevent any station from broadcasting in more than 75% of the world. country. .
Regional TV networks say they are struggling to stay viable and need to merge with metro networks in order to maintain local jobs and content.
According to the Save our Voices website, over the past 15 years, TV newsrooms have been closed in Griffith, the Gold Coast, Newcastle, Wollongong, Canberra, Orange, Wagga Wagga, Mildura and in Albury.
The website says news services and local coverage have been cut in Bendigo, Ballarat, Gippsland, Mt Gambier, Albany, Bunbury, Geraldton and Broome.
Metro stations schedule live broadcast in regional areas
The campaign follows the impending decision by metro stations to broadcast live content in regional areas.
Channel Seven has already announced that it will broadcast its content on the Internet, and Channel Nine is expected to announce that it will broadcast all three of its channels.
Ballarat MP Catherine King said she spoke with WIN CEO Andrew Lancaster about the proposed changes and received assurances that local content would be maintained on local news services .
Speaking to ABC Ballarat, Ms King said she was one of the MPs who had been pressured by media companies to change the 75 percent reach rule.
She said she had asked Mr Lancaster why the changes were happening in Ballarat at the same time MPs were under pressure over the scope rule and the reduction in regional resources.
"They say the issues are separate. I'm not sure. It's hard to see them as separate when this stuff happens," Ms. King said.
In a statement, Mr Lancaster said Ballarat staff had been made aware of the decision and would be consulted during a restructuring process.
No details were given on the roles involved, but Mr Lancaster said it would be a priority for those affected to be given the opportunity to be redeployed.
Federal Communications Minister Mitch Fifield weighed in on the debate when he spoke on ABC radio.
"Technology and the way consumers seek to access their media are slowly making existing media laws redundant," he said.
"Ultimately they will have to change and if they don't change consumers and technology will bypass them altogether."
Mr Fifield said he had met with key industry stakeholders to see if a broad consensus could be reached to reform laws to reflect today's world.