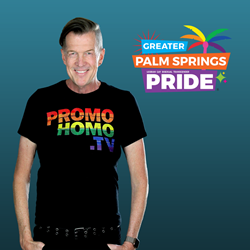 PromoHomo.TV® — A Free Online TV Network — to simultaneously broadcast the 2021 Palm Springs Pride Parade to the world
"The pride parade is an opportunity to come together to celebrate and to use the platform offered by pride to peacefully resist hatred, discrimination, intolerance, racism and bigotry," added deHarte. " … Ron deHarte, President, Greater Palm Springs Pride
PALM SPRINGS, Calif. (PRWEB)
05 November 2021
PromoHomo.TV founder, producer and presenter Nicholas Snow announces that his online TV network will simultaneously broadcast the colorful Palm Springs 2021 Pride Parade worldwide on YouTube, Linked In, Twitter Live, Facebook and on PromoHomo.TV®. The theme for this year's parade is You Are Include, and Snow intends to include the world.
Known for its crystal-clear blue skies and year-round sunshine, the city of Palm Springs and Palm Canyon Drive will come alive during the annual Pride Celebration. PromoHomo.TV® airing will begin at 9:00 a.m. PST (parade begins at 10:00 a.m.) on Sunday, November 7. Spectators will gather along the palm-lined streets, or watch from their streaming devices around the world, to encourage and support organizations, activists, marching groups and thematic floats.
PromoHomo.TV® programming reached hundreds of thousands of viewers on social media platforms before the pandemic, but – while sheltering in place for more than a year in his modest apartment in the affordable housing complex on DAP Health Campus in Palm Springs, CA – Producer / Host Nicholas Snow has expanded PromoHomo.TV® into a full-fledged online broadcast network with TV-quality programming created for global audiences.
Interested viewers are encouraged to watch the show via the homepage at http://www.PromoHomo.TV or set reminders on their favorite social media platform:

Greater Palm Springs Pride President Ron deHarte said, "Our pride week calls on the community to come together and embrace our diversity, our resilience and to raise awareness of the collective power of the LGBTQ community. Parade participants help raise awareness of important issues including immigration reform, racial justice, access to health care, violence against transgender members of our community, and mental health awareness. racism and bigotry added deHarte. "
A special parade contingent will spotlight the 71 countries that ban same-sex relationships between consenting adults to demonstrate how advanced the fight for LGBTQ rights is and how much remains to be done for full equality. Seventy-one flags in the parade will represent a country where it is illegal to be LGBTQ. These include large parts of Africa, Asia and the Middle East, with strong intolerance to homosexuality. Being gay in Afghanistan, Brunei, Mauritania, Yemen, Nigeria, Sudan, Somalia, Saudi Arabia and Iran is one of the most serious "crimes" and "offenders" face death. In countries where homosexuality is prohibited but not punishable by death, "delinquents" risk being whipped or imprisoned. They are also deprived of their human and political rights and treated as third class citizens.
A surprise entry to the parade features the board of directors of San Francisco's Dykes on Bikes®️ women's motorcycle contingent, which will travel to Palm Springs for the first time in its 45-year history. Throttling engines, loud pipes and jubilant passengers will greet spectators and welcome all the motorcyclists who ride in solidarity with iconic, rebellious and independent women. Queer motorcyclists will be greeted with thunderous rallying cries, providing a spectacle to behold.
Unique entries to the parade include businesses supporting LGBTQ, organizations like Brothers of the Desert, PFLAG, Free Mom Hugs, DAP Health, Palm Springs City Council members, employees, and the Human Rights Commission. The Desert Winds Freedom Band will be back for its 21st year. This year will be the 15th appearance of the Spirit of the Sands Band and Visual Corps of Palm Springs High School and the tenth appearance of the Golden Eagle Regiment of Desert Hot Springs High School.
The Palm Springs Pride Parade is known for the large number of participating youth groups from the area's Gay-Straight Alliance organizations. Up to 500 students representing 56 AGH are expected to parade and represent their school.
Snow, who describes himself as a multimedia entertainment activist, explains, "Yes, I really started a TV network from my converted bedroom. I am committed to creating programming that includes, celebrates and reinforces the diversity and intersectionality of all of us. PromoHomo.TV® is, in fact, "Connecting the circuits of humanity by creating programming for all LGBTQ +!" "
Although programming is free on several social media platforms, viewers are encouraged to become co-creators of the network, known as PromoHomo.TV® Superstars, with a paid subscription, available at http://www.Patreon.com/PromoHomoTV.
To find live and on-demand broadcasts, visit http://www.PromoHomo.TV, or like and follow @PromoHomoTV on your favorite social media platform:

Share the article on social media or by email: