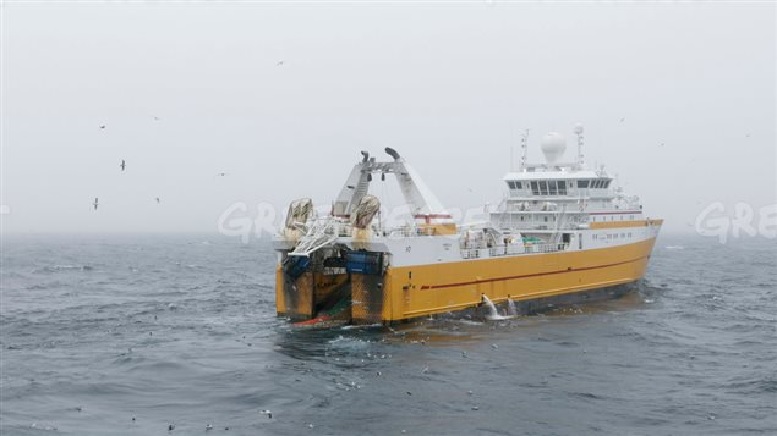 Monitoring of the world fishing fleet – RCI
The bottom trawler 'Kirkella' operates in the Barents Sea off the east coast of Svalbard, located about 500 nm (950 km) north of Norway on July 7, 2016. Greenpeace says fishing now takes place in areas further north than before as the ice recedes. The newly developed system can accurately track tens of thousands of commercial fishing vessels around the world. Photo: Greenpeace-Nick Cobbing
For the first time, fishing vessels around the world can be tracked.
Researchers at Dalhousie University in Nova Scotia and other institutions developed the new global fisheries dataset.
Kristian Boerder (PhD candidate) from Boris Worm Lab in Dalhousie is co-author of the study
Listen
The study was published in the journal Science under the title "Tracking the global print of Fisheries" (summary HERE)
Monitoring shows that many vessels are in fact floating fishing factories, operating 24 hours a day, over long distances and over long periods of time.
In creating the new database, Dalhousie partnered with Global Fishing Watch, University of California, Stanford University, National Geographic Society, SkyTruth and Google to produce the very first set of data on global industrial fishing activities using an unprecedented collection of automatic sensors captured by satellite. identification system positions (AIS). Some 70,000 industrial fishing vessels have been computerized and tracked on a global map.
The type of vessel and the type of fishing can be identified as well as when it is fishing and where exactly.
Boerder says they were surprised to see that more than half of the world's ocean surface received some measure of fishing activity, and adds that the figure is likely much higher because not all vessels have not been tracked.
She also noted that in general, marine protected areas and 200nm economic exclusion zones were generally not encroached.
The dataset developed by the researchers will be accessible to the public free of charge, allowing anyone to download, view and analyze the global footprint of fisheries.
Quoted in a press release, David Kroodsma, senior author and director of research and development for Global Fishing Watch, said: "By releasing data and analysis, we aim to increase transparency in the fishing industry. business and improve sustainable management opportunities. noted
Additional information