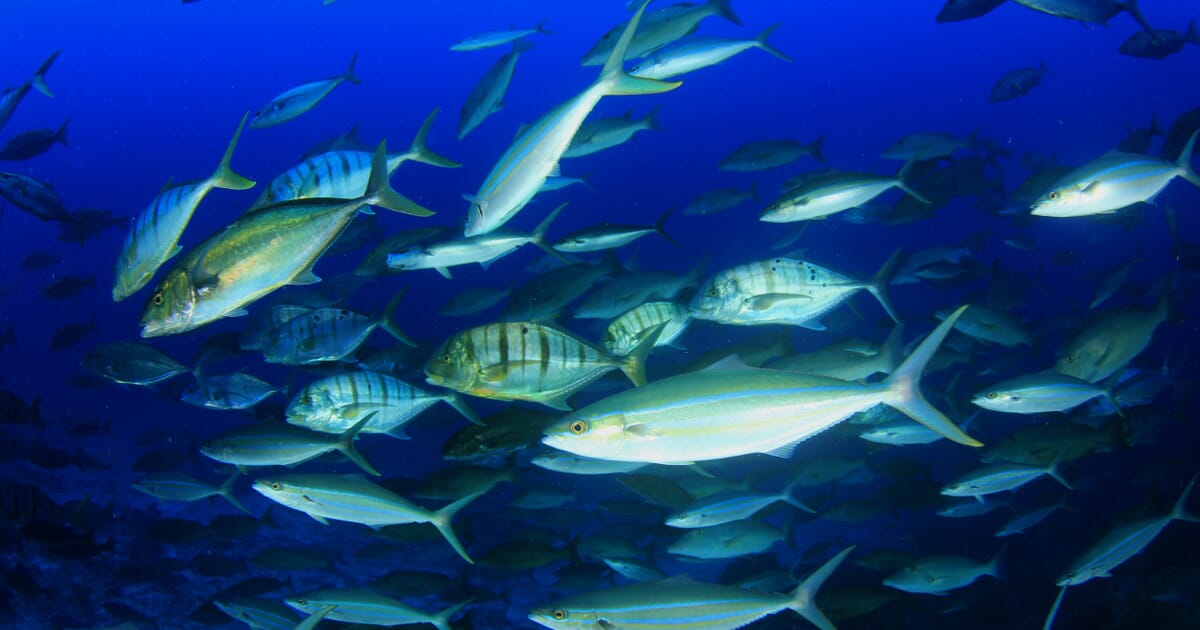 MMO: Overview of the Global Fishing Industry
introduction
The global catch data presented in this chapter has been taken from the most recent data available from the Food and Agriculture Organization of the United Nations (FAO). These tables present annual statistics from 2000 to 2010, on a global basis, of nominal catches (see Annex 1, Glossary of terms). The data are official statistics and are not subject to accreditation by National Statistics. FAO frequently updates historical data. The revisions have not been highlighted in the following tables.
Global capture
In 2010, the global sea fishing catch figure was around 78 million tonnes, down 2% from 2009. Table 6.1 shows that vessels from Asia and the Middle East catch 53% of the total. global total and European ships 17%. Vessels from Central and South America accounted for 15 percent of the world total; this is a reduced share as their catches fell by 24% in 2010.
Global catches by continent: 2000 to 2010
Source: FAO
(a) Central America and South America include the Caribbean.
(b) Asia includes the Middle East.
(c) Not included elsewhere.
Figure 6.1 shows the total catches of the main fishing countries in terms of quantity caught in 2010.
In 2010, China (including Hong Kong and Macao SAR) caught the largest amount of fish, 13.5 million tonnes. Indonesia had the second largest catch with 5 million tonnes. The United States of America, Peru and Japan each caught between 4 and 5 million tonnes.
In 2010, Spain caught 963,000 tonnes, the highest of any country in the European Union. Denmark captured 828,000 tonnes. FAO figures show a British catch in 2010 of 618,000 tonnes (including 8,000 tonnes by the Isle of Man and the Channel Islands). It should be noted that this figure is different from the figure of 608,000 tonnes presented in Table 3.6 of Chapter 3.
World catches by nationality of vessel, main fish harvesters: 2010 ('000 tonnes)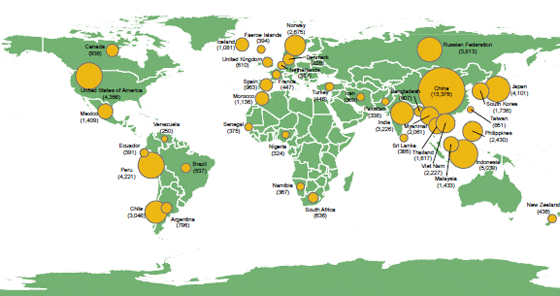 FAO fishing areas are shown in Figure 6.2. Of the 78 million tonnes of fish caught in 2010, 59% were caught in the Pacific Ocean, 27% in the Atlantic Ocean and 14% in the Indian Ocean (see Table 6.2).
In the Atlantic Ocean, catches in 2010 were 15% lower than in 2000 and those in the Pacific Ocean decreased by 12% over the same period. However, in the Indian Ocean, marine catches increased by 23 percent between 2000 and 2010. This is almost entirely due to the 36 percent increase in catches in the eastern Indian Ocean.
Global catch by sea area: 2000 to 2010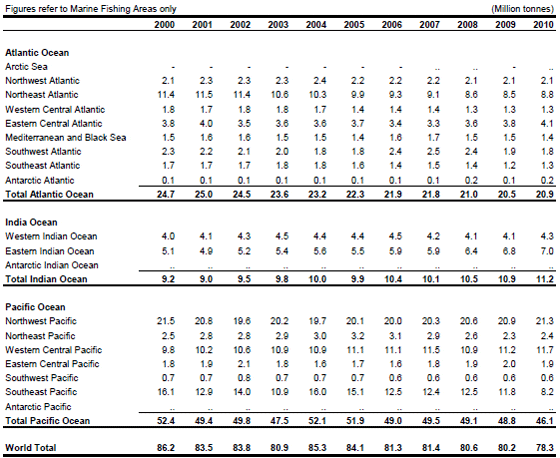 Source: FAO
Note: The data in this table are official statistics and are not subject to national statistics accreditation. 115
FAO marine fishing areas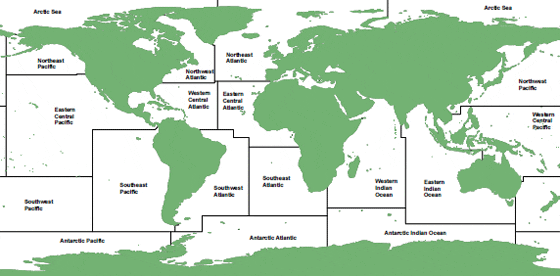 Source: VLIZ (2005). FAO Geographic Database of Fishing Areas.
november 2012