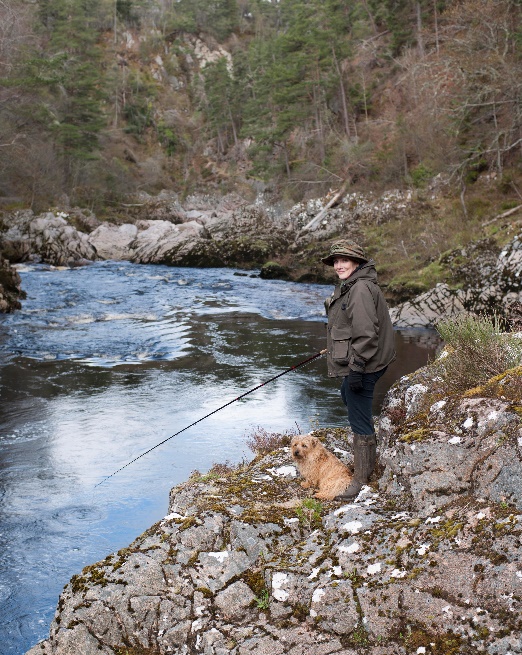 Fiona sets sail for World Fisheries Day
WRITER, Broadcaster and Dumfriesshire Lord Lieutenant Fiona Armstrong is passionate about angling. And in honor of World Fisheries Day this weekend, June 23, she explains why it's such a passion.
* Describe why angling is so special in your life?
FA: It's such a mix: the thrill of fishing – and the relaxation of peaceful time spent by the water. The camaraderie, being with other fishermen – and the solitude when you are alone by the river. The great outdoors and exercise… I associate fishing with vacations and escapism.
* When and where did you go fishing for the first time? Who were you with?
FA: I went fishing for the first time in my late twenties with my future first husband. It was on the River Dee in Scotland and we were on the hunt for salmon and sea trout. I always thank my lucky stars that he didn't like football – I would have found it much harder to practice this sport !
*What was the first fish you caught? Set the scene…
FA: It was on the said river, the Dee. The day was mild and the midges weren't too active. My fiance was planning on launching me with a spinning rod, but when we got there the water was too low – so it was only fly fishing. He tried to give me some advice, but we fell out. He went downstream and I hunted, very badly. Then on the sixth throw there was a hit at the end of the rod and I wasn't sure what to do. A man across the river shouted – hurry up! I started coiling and continued coiling until the poor fish was hanging off the end of the fish's upper eye! It was about three pounds, a nice sea trout. The man then shouted again to ask which fly I was using. I told him he was black and hairy, not knowing his name.
After that, I hooked up and started catching more fish than my husband. The marriage didn't last, but I don't think that's the reason!
* What was the most exciting take you have ever taken?
FA: Probably hooking up a 36 pound salmon in Alaska. I was there to make a fishing film for Sky TV – and it all looked so easy. Who could not fail to catch it? There seemed to be hundreds of salmon in the river, but as any true angler knows, an overabundance of fish doesn't mean you're going to catch! It took me a few days to hang one up – and an hour to roll it up. I was pretty exhausted at the end. I kept hoping and praying that the line would hold, but they use pretty tough nylon there. When you look at the photo it's a pretty red fish – not as silvery as our Scottish offerings – so it's an Alaskan salmon. But was I proud when I posed with this fish – then released it back into the wild.
* Where is your favorite place to fish in the UK and around the world?
FA: Any Scottish river. I once caught a memorable salmon on the Border Esk in Dumfriesshire, a 14.5lb. Note the half pound: this is very important. Then I like flood rivers like the Findhorn. The water level rises and falls and when it drops after a flood you can have some really exciting days. I fished my first salmon on the Cassley River at Sutherland in the far north. It's a mix of low and streamy and high and rocky. Plus, it feels like God's own country there. Be careful, I also love fishing for trout on a Scottish loch. You can spend magical days on a hill loch. No one can reach you. It really is the return to the wild.
* When did you first get involved with Fishing TV and World Fisheries Day?
FA: Fishing television is becoming an extremely popular watch with fishermen. I was delighted when they approached me to participate in World Fisheries Day. Anglers are generally pretty decent – indeed, I've never encountered a horrible one. So that must mean something.
* Why did you decide to get involved as an ambassador for World Fisheries Day?
Fishing is a great pastime – and as a patron of a few fishing charities I have seen the effect it can have on young people, especially those in city centers: taking them to the countryside and give them an interest; keep them away from mobiles and computer screens and bring them back to nature. Teach them to respect the water and the creatures in and around it. Give a sense of accomplishment and confidence.
Fishing is incredibly popular, but we need to attract a new generation of anglers – and also encourage more women to take up the sport.
* As an ambassador of the initiative, what do you expect from World Fisheries Day?
Let this create more interest in angling. And that it encourages respect for fish – and raises questions about conservation and preservation.
Angling isn't just about hunting and catching.
* As a news anchor, do you find angling offers a mental escape from the realities of busy everyday life?
FA: Undoubtedly. Imagine a place where your mobile isn't working – and you're not bombarded with news – usually bad news! It sounds like a cliché, but when I go fishing it's time to relax, recharge and get away from it all. I catch very little – I have always caught very little. But catching isn't the end of angling, for me it's peace, exercise and fresh air.
* Despite a global community of 700 million anglers, the men and women who love fishing are still keen to get more people involved in the sport –Why do you think more people are not getting involved in fishing and what would you say to someone who is considering playing the sport?
FA: I think the numbers are going down in a lot of sports and hobbies, probably because of computers and cell phones etc. There are so many digital distractions these days. What was once considered a rite of passage for a boy is perhaps becoming less so? Maybe fathers don't teach their sons to fish like they used to? But 700 million fishermen is not a bad number! We just need to bring in the next generation and keep it hooked.
* Angling is primarily considered a men's sport – what would you say to any woman interested in the sport?
FA: Dark. We ladies may be in the minority – I believe only ten percent of fishermen are women. But the record books show that we can certainly catch it. Largest pole and line fish caught in British waters was hooked and landed by a woman – in 1922 Miss Georgina Ballantine hooked a 64-pound silver beauty and she still holds the record. Even if we don't catch anything, there are so many reasons to go fishing: health and fitness, clearing your mind, cute fishing hats, learning to tie knots, the company of other fishermen. in the line – or, being so outnumbered by these bucks, you might even catch more than a fish (I met my second husband on the banks of a river!)
The latter seems a bit casual – but if you go fishing, you might end up with a lifelong passion.