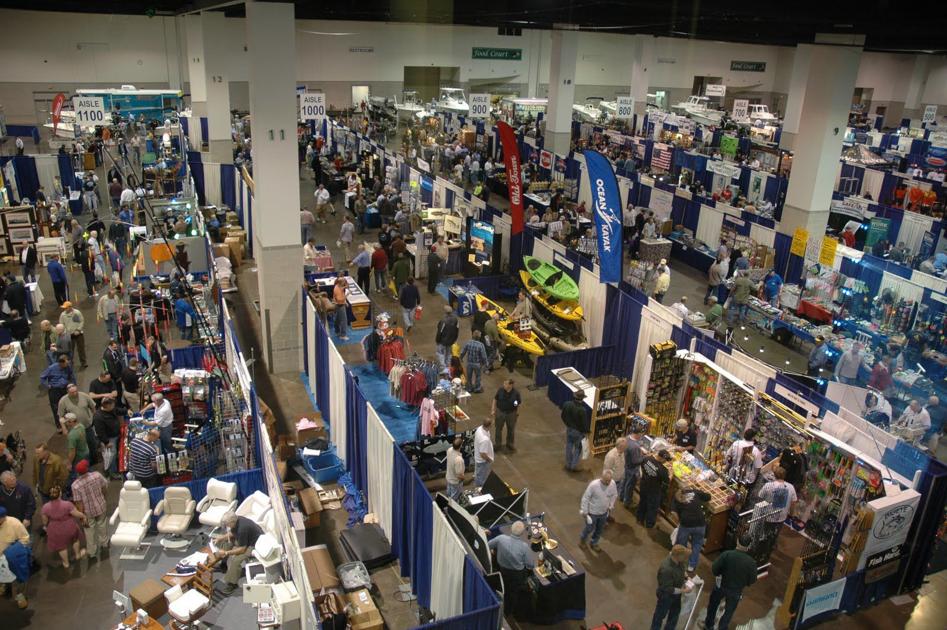 MONTI: Catch the big one at the NE Saltwater Fishing Show | Local sports
[ad_1]
Get ready to fish at the New England Saltwater Fishing Show March 22-24 at the Rhode Island Convention Center.
This year it's the biggest ever and includes gear, rods, reels, lures, electronics, rental guides, boats, motors, accessories, clothing and more. .
Steve Medeiros, Show Director and President of the Rhode Island Satltwater Anglers Association (Show Sponsors), said: "We have expanded the show by adding booths and in total over 300 exhibitors with over 60 seminars in three different areas. . Many exhibitors offer special offers. Seminars are given by experts on a wide range of fishing topics, from larger plaice fishing to inshore fishing with light gear from shore, by kayak or by boat. Discover the fishing tactics and strategies of the best fishermen and charter captains.
Visit www.nesaltwatershow.com/seminars.shtml for a complete list of seminar topics and speakers. By taking some time to plan your visit to the show, you can make sure you are at the show for the presentations you want to see and visit the booths that have products you want to see.
Special speakers at the exhibit include National Geographic's "Wicked Tuna", Captain Dave Carraro of Tuna.com and Captain Paul Hebert of Wicked Pissah. The duo will take the stage and talk about what goes on behind the scenes on the set of "Wicked Tuna".
To make the most of the show, I select the stands of the exhibitors I want to visit before the show by circling them in the program and marking them on the show map. I then spend some time reviewing the seminar topics and speakers, noting which ones I want to attend and the times they are offered (most are presented more than once).
The New England Saltwater Fishing Show will be held at the Convention Center on Friday, March 22 from noon to 8 p.m. Saturday March 23, from 9 a.m. to 7 p.m. and Sunday March 24 from 10 a.m. to 5 p.m.
Sunday is family day in the living room. All women and children under 12 will be admitted free on Sundays. A treasure hunt for children will also be organized on Sunday. When a child enters the show with a parent, they are given a Scavenger Hunt Research Sheet that can earn them a variety of prizes.
Tickets at the door cost $ 10, but discounted tickets for early sales online are $ 8.00 each. Children 12 and under are admitted free. Visit www.nesaltwatershow.com for advance ticket sales.
RI fishermen settle down
Vineyard Wind attenuation
On Monday, February 25, the Coastal Resources Management Board (CRMC) Fisheries Advisory Board (FAB) approved a negotiated $ 16.7 million mitigation agreement with Vineyard Wind. The approval of the set moves the project forward to the entire CRMC, which, at the time of going to press, was due to be Tuesday to discuss the Vineyard Wind project.
The regulation provides more funds up front for research to study efficient and safe fishing in the project area, as well as research that can help future projects and their relationship to fishing. A total of $ 2.5 million over five years in a trust fund will be managed by Rhode Island fishermen. The agreement also includes $ 4.2 million in payments over 30 years to assist with the wind farm's direct impacts on fishing in Rhode Island.
Unlimited Annual Trout
Meeting and fundraising
The Narragansett Chapter of Trout Unlimited (TU225) will be holding their annual fundraising banquet on Saturday, April 6, from 3 p.m. to 7 p.m. at the Coventry / West Greenwich Elks Lodge, 42 Nooseneck Hill Road in West Greenwich, RI.
The banquet will include an early evening buffet dinner, numerous raffles, as well as a silent and live auction. Items vary from a Baxter House Outfitters guided wading trip on the Beaverkill River or Willowemoc Creek, a Thomas and Thomas Vector 5wt travel rod, other fly fishing rods and gear, water flies fresh and saltwater, Bass Pro gift cards, movie tickets, gift certificates for therapeutic massages, as well as many items donated by our members. Tickets cost $ 35 and can be purchased at the door. For more information or to donate auction items, contact Susan Estabrook at 401.848.1070.
RI fishing license online
The Rhode Island Department of Environmental Management (DEM) reminds anglers that the freshwater fishing season runs from March 1 to February 28. Regardless of the date of purchase, freshwater recreational fishing licenses for the 2018 season expired on February 28, 2019. for the 2019 season are available online at www.dem.ri / gov and will be valid from March 2019 until February 2020.
Weekapaug SurfCasters meeting Sunday
The Weekapaug SurfCasters will meet on Sunday at 1 p.m. at the Misquamicut Fire Hall at 65 Crandall Avenue in Westerly. Gill Bell, famous local surfcasting expert and club member, will talk about "Surfcasting South County for bluefish and striped bass". For more information, contact Gil Bell at [email protected]
Where's the bite?
Freshwater fishing: Neil Hayes of Quaker Lane Bait & Tackle, North Kingstown, said: "With most of the ice cream melted, things slowed down. In this area, fishermen targeted pike, largemouth bass and trout in ponds stocked by DEM. John Littlefield of Archie's Bait & Tackle in Riverside said: "I've had my best winters for business in a long time. Sold many minnows to ice fishermen in the northern parts of Rhode Island and Massachusetts. This week, in addition to the minnows, I had blue gills about six inches in size and a few small catfish. They were the first to leave because fishermen bought them to target pike. The opening day of the freshwater season is April 13 of this year (always the second Saturday in April). Fishermen (even saltwater fishermen) use the opening day as the official start of the fishing season. The states of Massachusetts and Rhode Island are stocking trout in preparation for opening day in late March / early April.
Cod fishing was good last week, the best since the new year. Fleet Captain Frank Blount said: "We managed to get out a few times last week and we're happy to report some of the best action we've seen in weeks. We fished on Sunday near Block Island and found a few small fish, but nothing really to work on. Captain Mike decided to take a ride in the deep water. We found some nice cod waiting with their mouths open. The weather was so good that we were able to drift the power to stay just above the fish. We were then able to get by on the following Saturday. We found some great cod from the market to work on with quite a few shorts in the mix. Party boats sailing for cod at this time of year include the Frances fleet at www.francesfleet.com, the seven B's to www.sevenbs.com, and the current from the island to www.islandcurrent.com.
Captain Dave Monti has been fishing and shellfish fishing for over 40 years. He holds a captain's license and a charter fishing license. He is a member of the RISAA Board of Directors, a member of the RI Party & Charter Boat Association and a member of the RI Marine Fisheries Council. Contact or send fishing news and photos to Captain Dave at [email protected] or visit his website at www.noflukefishing.com.
[ad_2]